Costs to ship goods from Asia to the U.S. are turning sharply upward, but American importers appear to be absorbing the higher prices after watching freight rates plummet this year from record highs.
The average spot rate to ship a 40-foot container from China to the U.S. West Coast rose 61% during the six weeks through Aug. 15 to $2,075, according to transportation data and procurement firm Xeneta.
The increase came as big shipping lines raised their listed prices after rates on the sector's spot market plunged from nearly $10,000 a box in February 2022 to below $1,300 in late June, as overstocked retailers pulled back orders and weakening demand cut into earnings at big shipping lines. 
Shipping Rates
Average daily rate for shipping a 40-foot sea container from the Far East to the U.S. West Coast,​for spot-market and long-term contract shipments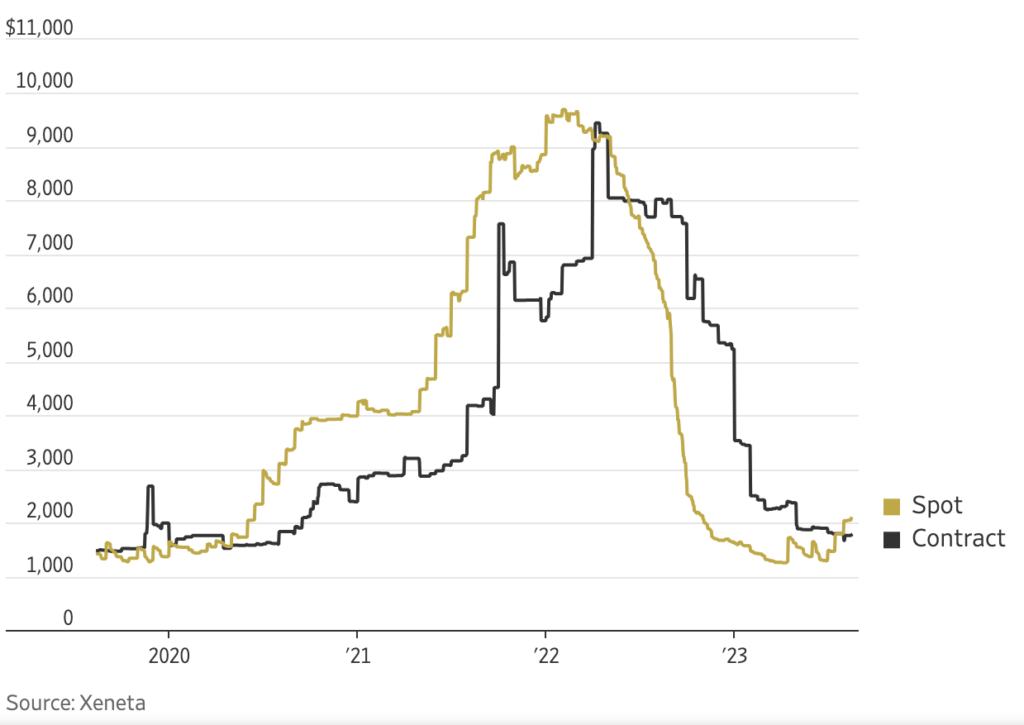 Tim Smith, director of global transportation and logistics at Gabe's Old Time Pottery, said the abrupt upturn in rates has had only a limited impact on the home-goods retailer. The Morgantown, W.Va.-based company earlier this year hedged its bet on shipping, he said, locking in half its freight at fixed rates that now are lower than spot prices.
"We figured rates would go up," Smith said. "They could go back down again and we may even benefit from being back on the spot market at some point."
Xeneta's chief analyst, Peter Sand, said that before the pandemic a big jump in rates would spook importers. China-to-U. S. West Coast rates are $600 higher than the same period in 2019. But they are also 66% lower than last August.
Coming down from the highs of last year, "$2,000 a day now shouldn't scare the hell out of them," Sand said.
U.S. importers endured a roller-coaster ride during the pandemic, when a surge in consumer-spending on goods fueled record imports that triggered a run on shipping capacity and skyrocketing prices. Consumers have pivoted to greater spending on services this year, leading apparel sellers, electronics retailers and other consumer-goods merchants to cancel overseas orders and seek to clear inventories.
Lower shipping costs have been a bright spot for importers this year compared with the high prices that dented corporate transport budgets in 2021 and 2022.
Home Depot Chief Executive Edward Decker said on an earnings call on Tuesday that cost increases in transportation, products and commodities had "all completely abated." John Mulligan, chief operating officer at Target, said on an earnings conference call the next day that the retailer is seeing much more favorable conditions across its supply chain, especially in ocean shipping.
Importers and some shipping industry specialists expect the recent run-up in spot rates will be short lived. U.S. container import volumes remain behind year-earlier levels while some ocean carriers are starting to take delivery of new containerships they ordered when demand was at its peak, pouring extra capacity into a lackluster market.
Deliveries of new containerships added the equivalent of 1.2 million containers of capacity during the first seven months of 2023, a record, according to Denmark-based shipping trade body Bimco.
Ocean carriers such as Denmark-based A.P. Moller-Maersk have reduced supply by pulling some containerships from service and slowing their vessels, effectively eating up capacity. But even more containerships are expected to enter service over the next year, said Philip Damas, managing director of the Drewry Shipping Consultants group.
"There is a tide of overcapacity that will definitely affect global shipping, so we will see spot rates resuming their downwards trend" in the fall, Damas said.
Some carriers are trying to extract more money from long-term contracts, which tend to be fixed at higher prices than the more volatile spot market, by adding a peak-season surcharge. Carriers usually employ the tactic in anticipation of stronger demand in the fall and heading into the end-of-year holidays.
Erin Fleet, director of logistics at Travelpro Products, a luggage company based in Boca Raton, Fla., said she simply declined to pay a surcharge one carrier had sought to impose, something that was unthinkable for most shippers in 2021 and 2022. "It's all a negotiation," Fleet said. "The volume and the market doesn't warrant it."